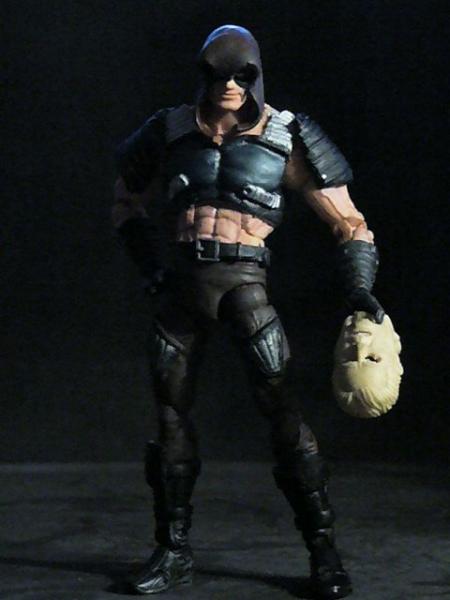 The mysterious man known as Zartan is considered nearly as deadly as Storm Shadow or Snake-Eyes. Besides being a highly accomplished martial artist, he is almost unequaled as an archer and is unsurpassed as a master of disguise. He uses a form of holography and hypnotism to change his appearance. He is also a ventriloquist and can throw his voice in over 20 languages and dialects.

Zartan's earliest origins are unknown. Some believe he received his military training in Europe, possibly St. Cyr. At some point in his early career, he was approached in a bar by the man who would become Cobra Commander. The man offered Zartan a large sum of money for the use of his deadly skills to kill the young Snake-Eyes, the surviving member of a family who had perished in a head on car collision with Cobra Commander's brother, who also perished. Cobra Commander blamed Snake-Eyes for the death of his brother, even though Snake-Eyes had nothing to do with it. Zartan infiltrated the ninja clan that had taken Snake-Eyes in, by becoming the apprentice of the Sword Master Onihashi. However his teacher purified him, and Zartan no longer felt he had anything to prove by killing Snake-Eyes, he had finally found satisfaction in life under his teacher. However, Cobra Commander threatened to reveal Zartan's true motives to his teacher, and thus he was forced to go through with the hit.

Having access to the Arashikage household due to his position, Zartan stole one of Storm Shadow's arrows -- under the guidance of the Faceless Master (Firefly). Using a sound amplifier, Zartan honed in on Snake-Eyes breathing so he could kill him from behind the screen in the room he was practicing. He mistakenly killed the Hard Master, the clan leader, who was in fact demonstrating to Snake-Eyes the technique of the Cloak of the Chameleon. Zartan fled and escaped, while the clan believed it was a jealous Storm Shadow who had been responsible. Onihashi could not be fooled when Zartan returned. His shame was so great over the atrocity perpetrated by his student that he committed suicide. The tragic incident took all that Zartan had wanted from him, and the guilt over his master's death drove him over the edge. He took up with a rotten band of miscreants known as the Dreadnoks, and became their leader. They set up in the Florida Everglades, frequently working for Cobra Commander as thieves and mercenaries for hire. Storm Shadow, soon joined Cobra, hoping to learn the identity of the Hard Master's murder and clear his name.

Cobra Commander came to Zartan whilst being sought after by the Joes Mutt & Junkyard, Tripwire and Torpedo. After a skirmish in the swamp, the security of Zartan's hidden shack was compromised, forcing him and the Dreadnoks to abandon it. In retaliation, Zartan sought out the Joes' secret base. He and the Dreadnoks discovered the Joes' aircraft at McGuire Air Force Base in New Jersey, destroying much of it. Storm Shadow later left Cobra, and deduced that Zartan was his uncle's murderer, and swore vengeance.