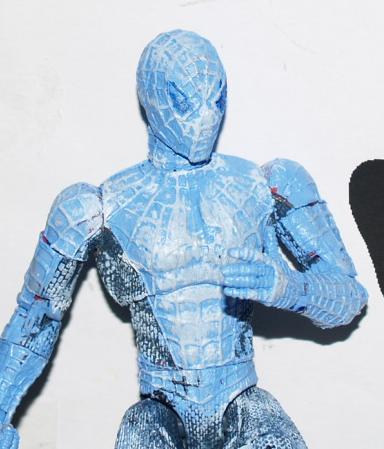 The SpiderMan Appeared in The Daily Bugle as the most tragic story of the century.
"New York is known for its great crime and misery. The only one we as the people of New York know that can stop such horrors, is the famous SpiderMan. Recently, there was a report stating that the human spider is dieing. That report, by all accounts, is true. Who will the childrens role model be? Who will be there to exterminate the forces of (cont. pg A1)...
"evil? And so, the nations greatest hero may just become another part of the master plan. Will he pull through? Or will this spider finally be washed out of the water spout? One person who cares, Miss Mary Jane Watson, Tells us her story.
'I love him so much (sobs) I can't believe this is happening! One day he's my boy- um, boy savior, and the next he's history!'(breaks off into hard sobs) One thing that is for certain is that today, a man with a slightly light complexion has been reported seen talking to the doctors tending to spiderman. Today, he had a package delivered to none other than the editor of The Daily Bugle, J.Jonah Jameson himself. It was a bundle of roses for Spiderman. authorities disable us from getting further info on this inve-"
Jonah slammed the newspaper on the table. "Thats all you got?"
"uh, yes sir" he said. "the pictures were a bit hard to get, sir, and-"
"I don't care. Ever since Parker quit showing up here, things have gone to hell. You know, I hope he's dieing."
Later that day, in the hospital, Spiderman woke up and saw the roses. On the tag, it said, "Take 2, and Call me in the morning."
'Huh,' He thought to himself. 'Aren't all the roses for me?'
He grabbed the flowers when a tube of pills rolled down his hand. Dr.Victor Fries He glanced back at the card.
'Smuggled drugs. Just because I'm bed ridden doesn't mean I still can't fight for whats right.' He thought, and tossed the pills in the nearest trash can. Then one thing caught his eye. "CURES CANCER IN MINUTES!"
He reached over and grabbed the canister, and read the fine print. "Side affects, blah blah blah, discomfort in the upper esophagus, blah blah blah, and extreme drop in body temperature."
"He disconnected the wires monitoring his life supply. he jumped out of the window before anyone noticed.

He was back in his apartment, when Peter Parker took off his mask. He felt horrible. He took two, like the card said, and nothing changed in an hour. He took the rest of the pills and a quick shot of water. He shook his head in distaste. Eventually, he felt better, but he was cold. Too cold. He turned on the heater, and nothing happened. He was frozen to his core!
His face started to turn blue, and white, but he didn't care. He knew that he was going to die, and didn't want anyone to figure out he was spiderman. So, he grabbed his mask and costume ant put them on. He jumped in his firepit, feeling a lot better, but not dead. He got out, looking at his power-influenced outfit. It was light blue with frost all over. He screamed out loud, "whats happening to me?"
"Its the pills,"said a low voice. It was a traitor... He betrayed DC comics to turn two MARVEL characters lives upside down...

It was Mr.Freeze.