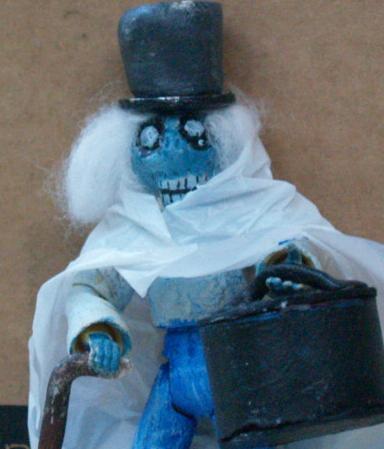 | | |
| --- | --- |
| Custom #: | 8996 |
| Name: | The Hatbox Ghost |
| Custom Type: | Action Figure |
| Toy Series: | Original |
| Creator: | dahdisneyfreek |
| Date Added: | August 1, 2008 |
| Base Figure: | Indiana Jones Renee Belloq (Desert Disquise) |
| Height: | 3.75 inches |
When I was only a frightened little child, I walked reluctantly into the 'Stretching room' of the mansion...
"When hinges creak in doorless chambers,
and strange and frightening sounds echo through the halls...
whenever candlelights flicker, when the air is deathly still,
That is the time, when ghosts are present, practicing their terror, with ghoulish delight.
Welcome, foolish mortals, to the Haunted Mansion!
I am your host, your, 'Ghost Host'. Hmhmhmhm..."
I took a look around in the room, to notice four odd paintings, each guarded by twin gargoyles, holding burning candles... I looked them straight in the eye, and their grimace seemed to say, "go back."
"Our tour begins here in this gallery, where some of our guests are shown in their corruptible, mortal state."
I took another look around, not noticing the mans speech at all, but looking at the portraits. Are they actually stretching? Or is it my imagination? But the gargoyles smile seemed to widen...
"This chamber has no windows and no doors...hmhmhmhm... Which offers you this chilling challenge!"
It was then that I noticed the fantastic molding on the ceiling. It was amazing!
"To find a way out! HAHAHAHAH!"
Still gaping at the ceiling, The man continued his speech, "Of course, theres always MY way."
The ceiling disappeared in a flash, to reveal the rafters above. I screamed, for the thunder crackle was too much. Then I saw... Him. Far above me, swinging on a rope around hs neck, was the long-dead skeletal remains of our host.
~
Creeping into the attic, the doombuggy swayed this way and that, displaying years of junk unmoved by the long deceased owners. But then, the most romantic- or horrid story of all, hidden beneath the thick coating of dust in the attic, the Hatbox Ghost.
~
On their wedding day, Constance paced in the attic, not sure if she was ready to go through with it. She had strong evidence that her fiance had been having an affair, and couldn't marry such a man. She rifled through her grooms belonings, until she found his lumber axe, sharpened and ready to use. But she had no intention of chopping logs, she intended to kill her husband. She got in her wedding dress, and waited in the shadows, and had set a trap meant to lure Yale Gracey, her husband-to-be, into the attic. He was holding a fancy hat box and a cane, and was going to hise this gift for his wife in their bedroom, for her to find. But as he was walking through the attic, for thehouse was full of shortcuts, his bride said, "Don't you know its bad luck for the wife to see the groom before the wedding?"
He turned around, he was going to give his wife the hat, but instead, hatbox open and all, she lopped his head off, which rolled from his shoulders to the very hatbox in which he was going to give his bride. She was caught by the woman which Gracey had supposedly cheated with, but instead was the bridesmaid, which the bride had never known of. Attempting to escape life enprisonment, she claimed she was possesed by satan himself, and the exorcist ended up killing her by accident. when she was dead, Gracey knew who his killer was, and could move on... The bride was dead, hoping to be together again, but could not, because the Hatbox Ghost had passed on to the other side.

I was born actually 26 years after the Hatbox Ghost was removed from the ride, but he still remains as a memory, a shadow, of what once was... He taunts his jealous wife with a most melancholic version of "here comes the bride"... But Constance does not fret. She has an eternity with Gracey manor to do with what she will. She greets passers by with an axe, the same she did with her husband...

The first paragraph was all on memory, the speech and my feelings toward the ride. I really was born 26 years after 1969, so it couldn't know that... He was removed from the ride only months after the ride was opened...

Sculpted head, thats the hardest part, hatbox made from pure cardboard, hot glue and fixit (for the handle) cane sculpted, hair made from cotton pads, hat is fixit & a washer, and cloak made from a trash bag clipping. hope you like!

Like I said with the disneyfreak, please, you HAVE to go to disneyland right now or Ill hunt you down. and give you a wet willy till you do.