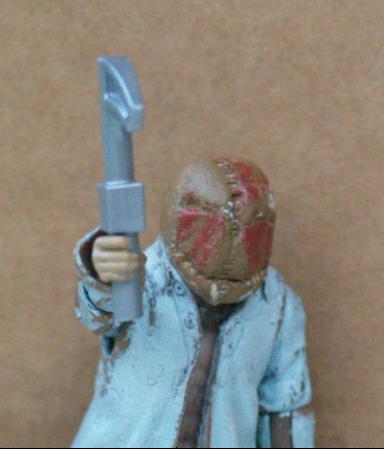 First head sculpt, cut open his shirt to make it look unbuttoned, and heres the backstory...

Here I worked at the Disneyland First Aid since I was 13, and I enjoyed it when I was an assisntant to my father. When It was he and I that were working the office, He had a fatal heart attack. I attempted to save him, but he had been lost to Death. The rest of my life, I worked here until, one day, August 22nd. I don't know what I did to deserve what had happened there. Anyway, It was a normal day, kids who scrape there knee running too fast on Main Street, and the occasional broken bone. Deaths did not occur often, but I have seen my fair share. Starting with my father, who was once Walt Disney's neighbor, then Walt himself, and many others who had perished.
I drove home that day, about two-thirty, I think it was, August 22nd, in my red pickup. Soon, it would be my birthday. I heard the gravel crackling under my tires as I slowed to a stop. Everything was normal, I said. However, the creek just west of our house was flowing water. Usually, it was just green murky water, resting lazily above the rocks at the bottom. Now, It was clear, fresh water, and rushed toward the city. Our house was on top of a hill, and nearly out in the middle of nowhere. Something suspicious was going on. Then, I realized why the river was flowing. The mountains snow was melting, but way to early in the year.
~ I didn't bother taking off my doctors clothes, I was just coming for a tool I needed. Then I spotted a potato sack, a staple gun, and two sticks of dynamite next to the computer. I picked up the dynamite, and then looked at the computer. Something fishy was going on, the computer was never used unless it was an emergency.
'Rhett Johnson's Will'?
And the dynamite exploded, in my hands. and I was out.
The next thing I remembered was the cold splash of the river on my back, before attempting to open my eyes. They were stapled shut! So too were my mouth and ears! and, my face was covered in a potato sack. It was about five minutes, surviving only by bobbing up and down to the surface for air through my nose, when I washed up on shore of the local lake. I could still hear, I could barely see, and I couldn't talk. Also, my hands and legs were bound, and I could not move. I stayed on the shore for hours until the potato sack was filled with sand, disabling me to breathe. I died.
But I came back, because my son took me to Madame Leota for ressurection. And I will have my revenge on everybody, regardless their innocence...
even you.

To fill in the gaps, His wife and daughter were selfish, and wanted to kill him without blood on their hands. so, they used the dynamite to cause an avalanche which melted later, causing the river to flow. they dragged him out to the creek, and threw him in. several hours passed on the shore before his son, a cop, found him. If theres anything you don't understand (or would like to make the story better) blease write in the comments below. Thanx!