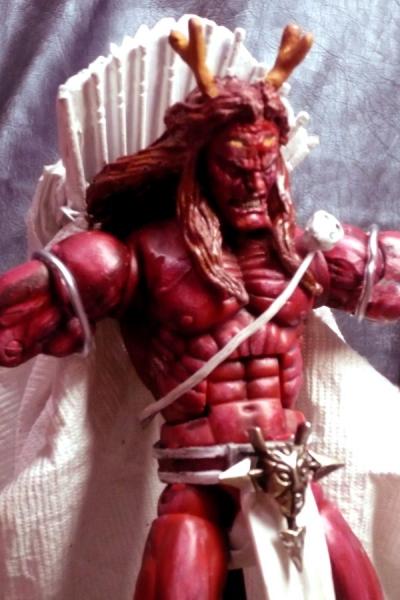 A friend gave me a very interesting Heroclix.His name is TRIGON.So I decided to research and he has a very Interesting Villainous image!He is more like the Mephisto of DC characters. I decided to customized him. And very timely, This months custom contest is all about Villains and once villains!

I refined OMEGA RED's face and Sculpted his forehead and added eyes. Strip off all his gadgets and armors and repainted his arms. His Cape is from a semi leather textile and his cape's collar is from cut microwavable plastic and toothpick for details. His scepter were made from s stick then wrapped some wire then sculpted the demon bat on top. Of course I did some modification from the original just to make more interesting and original..

BACK GROUND:

TRIGON :, A cruel and powerful four eyed demon of interdimensional origin, Trigon is result of the mating between a female member of a mystic sect and the god they worshipped. A side effect of this pairing, is that their child was filled with the cast-off evil energies of the inhabitants of Azarath, forming him into their personification. At birth, Trigon killed everyone around him (including his own mother). At the age of six, he destroyed an entire planet. And by the age of thirty, he held dominion over millions of worlds in his dimension. Arella, TEEN TITAN -RAVEN's mother, was a depressed woman who decided to join a Satanic cult known as Church of Blood, that was trying to kill Trigon. When the ritual was performed, Trigon, disguised as a handsome male, emerged and married Arella, who, soon impregnated by Trigon, discovered Trigon's true nature.