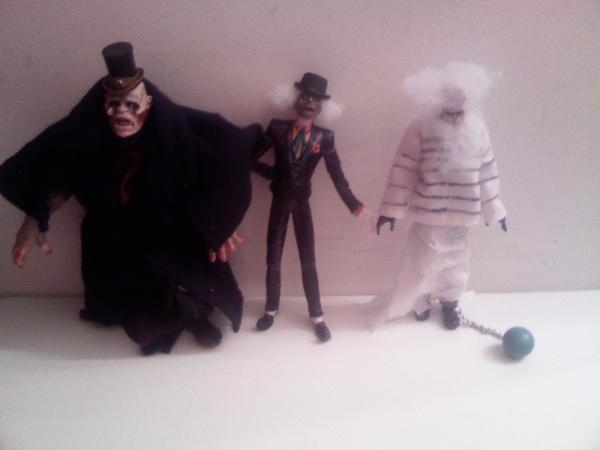 | | |
| --- | --- |
| Custom #: | 9620 |
| Name: | Phinnius, Ezra, and Gus: The Hitch-Hiking Ghosts |
| Contest: | Vile Volitions |
| Custom Type: | Action Figure |
| Toy Series: | Original |
| Creator: | hollywoodman |
| Date Added: | August 31, 2008 |
| Base Figure: | Phinnius: Mezco's AotLD Earl, Ezra: Hush Joker, Gus: Metal Gear Solid Figure |
| Height: | 8.00 inches |
"Ahhh, there you are. And just in time; there's a little matter I forgot to mention: BEWARE OF HITCH-HIKING GHOSTS!" Since the 1960s, these three happy haunts have frightened Disneyland attendees to death. But who are they? They are Ezra, Phinnius, and Gus Gracy, the three most competent assassins in Louisiana and cousins of Edward Gracy: owner of the Gracy mansion and fiancé of Emily Ravenswood: the infamous Bleeding Bride. Edward had written them a letter asking them to attend his wedding. You see, Edward was a power hungry man. A man who would do anything to make an extra dollar. And Emily was the heiress of the world famous Big Thunder Mountain Mining Co. Soon after the two met, Edward hatched the plan to marry her, then have her killed and take Big Thunder Mountain for himself. So after the wedding a huge party was held. There was singing and dancing and food and wine and everybody was happy. Emily was upstairs in the attic changing out of her wedding dress when she heard noise coming from several of the trunks. At first she ignored it, but it grew louder. She went over to investigate when out of the trucks jumped Ezra, Phinnius and Gus "I DO!" shouted Ezra. "HERE COMES THE BRIDE!" shouted Phinnius. "UNTIL DEATH DO YOU PART!" shouted Gus. Laughing hysterically, the three ambushed her. She screamed for help, but the music was too loud and no one heard her. Right after the murder, the three killers jumped out the window into the Gracy family boot hill. They ran amongst the tombstones until they were well away from the property. Meanwhile Lemuel, Emily's father, was getting worried about his daughter. She had not returned from the attic for over an hour. He went upstairs to check on her and nearly fainted at what he saw. He ran through the house informing everyone of the tragedy, and interrogating everyone he saw about what happened. Foolishly, Edward had told Ramsly, his most trusted manservant, about his plans. So when Lemuel asked him what happened, out of fear for his life, he told him what happened. Soon, Lemuel put together a posse to find the three killers. While the posse went in search of the three, Lemuel stayed behind and took care of the deceitful Edward. He came up from behind him, smashed a wine bottle on his head, and took his unconscious body up to the attic. Their, he hung the body from the rafters and when Edward woke up, he was dead. Meanwhile the three killers waited by the side of the road hitch-hiking. They waited and waited and no one picked them up. But soon, the posse arrived. The three tried to fight back, but they were grossly outnumbered. Soon, the three where dead. It was a wretched day at Gracy Manor. What was supposed to be a wedding party turned into a wake. To this day, it is said that if you wander the streets of New Orleans, just a few miles north of the old Gracy place, you might run into the three ghosts. If you do, fear not. They are but restless spirits in search of an escape. But heed this warning: Never venture near the old Gracy place. For there lurk the evil spirits of yesteryear. And endless suffering befalls all who enter.

I hope you enjoyed my little yarn. As I'm sure you can see, I'm somewhat of a Haunted Mansion fanatic. When I was little boy of three or so my parents took me to ride the Haunted Mansion at the Magic Kingdom. When the ride was finished, I said in an adorable little three year old voice, "More Ghosts". These where some of my first words and ever since, the Haunted Mansion has been a huge part of my life.

Ezra (the fat one) was made from Mezco's Earl Zombie. Phinnius (the thin one) was made from DC DIRECT's Hush Joker. Gus (the prisoner) was made from a Metal Gear Solid figure, but I'm not sure exactly who. Please tell me what you think of them. I think they're my best so far, but you tell me. Thanks for reading my story, the rest of it will follow with future HM figures.