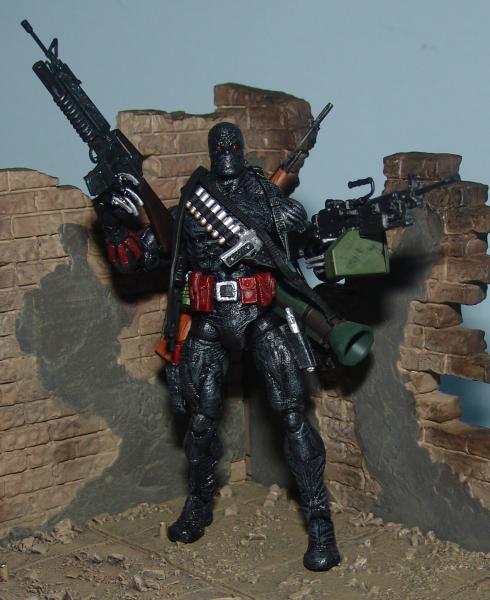 Ok, so I really wanted to come up with an original figure that could fit in to the marvel universe........
so I introduce to you "THE OVERKILL"!
real name unknown, he gets his name from the ridiculous amount of weapons he carries, 9!
3 hand guns (one on each leg, one on his chest strap)
3 machine guns (one has a customized grenade launcher than now fires oversized adamantium shells),
& a sniper rifle, rocket launcher & shot gun strapped to his back.
he also has grenades on his belt, + a sh#t load of adamantium coated ammo.
his gloves have adamatium claws & also seem to use technology similar to the satan claw, so he should be fully capable of tackling Wolverine!
he is NOT a mutant, but uses a cocktail of mutant growth hormone (MGH) to enhance his strength & healing abilities & is now totally hooked.
although his history is a mystery, he hates all mutants, especially wolverine, who seems to have killed someone close to or related to THE OVERKILL, who has sworn vengeance. he is a mercenary & also sidelines in bank robberies so he can afford to feed his MGH habit! it is not clear how he has gotten hold of adamantium, but he seems to have a good supply!
I'm also working on a bike for him, + possibly a car or van with a huge arsenal.

main body + masked head from black panther, removed ears + filed off the front of his boots, repainted black & dry brushed then given black wash.
unmasked head from a character I can't remember the name of (clear blue marvel guy!) which was I repainted + added scar.
belt, weapons, etc from various mcfarlane, lara croft & marvel figures, really raiden the fodder bin, it's pretty much empty now!
spent a lot of time on the paint job, + his belt, pouches etc, his belt is made from a lot of seperate pieces, the shotgun shells were cut from the chest of another figure.

I'm pretty happy with the way he turned out, I think he would make a pretty mean addition to the marvel universe & be a worthy opponent, would love to have him go up against wolverine or cable, & I'm not sure if he would team up with deadpool or go head to head against him, but with this many guns it would be a heal of a fight!

let me know what you think, I will have 2 versions of cable up soon!

P.S. i realise there was a character called "overkill" so i decide to add "the"
i like the name + it suits this guy more!