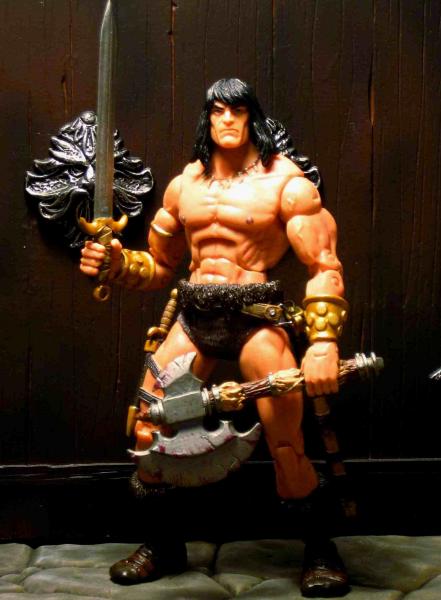 | | |
| --- | --- |
| Custom #: | 9774 |
| Name: | Conan the Barbarian (Marvel Era) |
| Custom Type: | Action Figure |
| Toy Series: | Conan |
| Creator: | Maelstrom |
| Date Added: | September 9, 2008 |
| Base Figure: | LCBH Conan |
| Height: | 6.50 inches |
This is something I've been meaning to do for a while, I never really liked the Conan from the LCBH two-pack from Toybiz/Marvel toys. While the figure was based on a decent piece of artwork, I don't think Conan would have ever been caught dead wearing all of that gaudy get-up! My goal was to pay homage to some of my favorite Marvel era Conan artists, namely Ernie Chan, Alfredo Alcala, Pablo Marcos, and of course the late John Buscema. I never really liked the "fur diaper" and I never thought that the plain, golden armband that magically stayed in the middle of Conan's bicep was practical or had any feasible use or purpose. Nevertheless, this is the way Marvel depicted Conan for the majority of their run, so I included them here. The recipe is pretty simple, besides the LCBH base figure, I used boots from a contemporary (2002) He-Man figure and added ankle articulation. The fur diaper was from a Hanna-Barberra "Thundarr the Barbarian" figure, and I sculpted extra fur that laps over the belt. I'm pretty lazy and did not want to remove the dagger straps on Conan's leg, so I left them there, but I replaced the dagger with one that could be unsheathed from some LOTR figure. I shortened the original sword hilt and placed a thinner blade on it. The scabbard is from a McFarlane "Conan the Cimmerian" figure, I added a spare belt from the fodder bin with some chain links to attach the scabbard to the figure. I lengthened the right arm so it would be the same length as the left, and re-sculpted the arm bands. The round pieces were shaved from a ML Moon Knight's staff. The necklace was CAREFULLY shaved off of a McFarlane "Conan the Indomitable" figure. The axe is from a Blizzard Entertainment Diablo Barbarian.
I intend to do a series of Marvel era Conans with different outfits and including interchangeable heads such as the one in the third picture. The helmet is from a ML X-Men movie Juggernaut and the horns are from some demon figure from McFarlane. The fourth pic is just for a little entertainment purposes, anyone familiar with Robert E. Howard's original Conan story "Rogues in the House" will know who the ape figure represents. Of course that is the build a figure Gorilla Grodd from DCUC. I shaved off the electrodes from his head and resculpted the hair. I also trimmed his mutton chops down to look less like Grodd and to make it a better multipurpose figure for interaction with other characters that I may make in the future. Anyways, hope you guys like!