Deadpool Daze Custom Contest

Love him or hate him, there's no denying that Deadpool is arguably the most popular character for customizers to tackle. The theme of this challenge is simple: all Deadpool, all the time.
- Any version of Deadpool, from any continuity/universe, is fair game. And, yes, all of the members of the Deadpool Corps count.
- In addition to the man himself, you may also create an amalgam of Deadpool and any other character that you like. You're not limited to the Marvel Universe, so, you can mix-and-match Wade with anyone or anything. Deadpool Betty White, Deadpool Voltron, Deadpool Batman, etc.--the possibilities are endless.
- Likewise, if you don't want to make a figure, you may also give a vehicle or playset a Deadpool redeco.
- If you submit multiple custom figures/things as a single contest entry, they ALL have to be "Deadpool-ized". For example, Deadpool accompanied by a "normal" Wolverine figure would not be acceptable. Wolverine would also have to be dressed-up like Deadpool to make it a legal entry.
- You may utilize whatever base bodies, parts, materials, and tools you like to bring your unique vision of the "Merc with a Mouth" to life. Which three variations of Wade Wilson will out Deadpool all the others and come out on top and snag the gold, silver, and bronze awards?
Please remember to follow the
Contest Rules
and to
Vote Fairly
.
What is the contest schedule?
| | |
| --- | --- |
| Begins: | Contest Closed |
| Ends: | April 15th, 2014 - Last day for submissions. No exceptions! Cut off is at midnight Central Standard Time. |
| Voting: | April 16th - 22nd. |
| Managed By: | Patraw |
Example Pictures for Ideas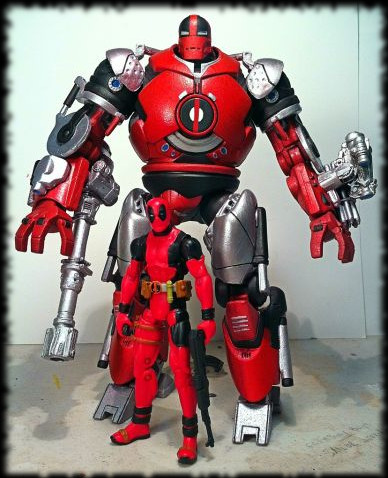 View Contest Entries

User Comments