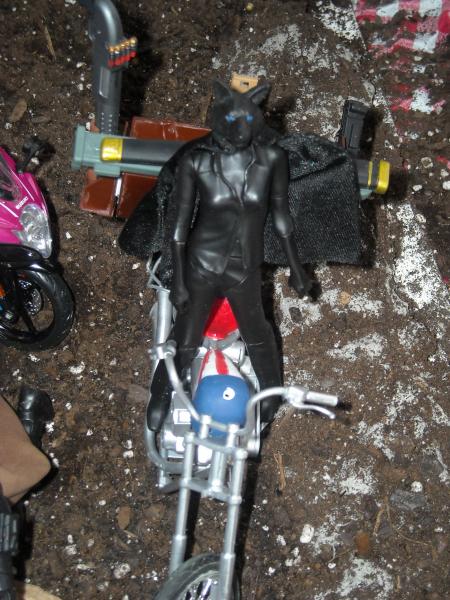 | | |
| --- | --- |
| Custom #: | 13018 |
| Name: | The Fallen Ones Version 1 |
| Contest: | Dioramas I |
| Custom Type: | Diorama / Playset |
| Toy Series: | Anime |
| Creator: | wesr |
| Date Added: | February 28, 2009 |
| Base Figure: | Buffy figure, Sigma 6 Snake Eyes, Supergirl Corrupted |
| Height: | 6.00 inches |
Recipe: Cobalt Crimson-Generic Sabertooth head from animal toy, Sigma 6 Snake Eyes body, sabertooth's tale. real leather coat based on one found online (thanks to my dad), Modified gun 1 is a 12" figure machine gun with ammo drums for another from the series and a handle from a sigma 6 gun. The Gunblade is snake Eyes' sword on another gun from the same company. I sculpted the fur/hair on the back of his head to fill the gap but sadly it cost the head articulation I'd managed to save.

Krazy Wolfypaws- ML X3 beast jacket, Supergirl Corrupted body, custom sculpted head cast by Snuurg, her gunblade (not shown) is a mgs2 gun with a sigma 6 Stormshadow blade on it, her tail is a resin cast of a generic tail from a wolf toy. Her handgrenade (not shown) is resin and styrene.

Kaya Wolfclaw- Buffy figure, same head as Krazy, Batman Animated Robin cape, resin tail, and a dagger that isn't shown.

Bike- 1/12 scale motorcycle kit, painted to resemble the one from Easy Rider. a purse and Sota Sakura backpack I forgot to put on it, homemade wooden box, Uzi and shotgun holsters, sleeping bags of felt which I forgot, the battery for it is made from a 12" figure ammo bag, the shotgun is from a 12" figure set with some machinegun ammo sanded and painted to be shotgun shells, the scabbards are sigma 6 for the gunblades, and the Uzi is a Sigma 6 item.

Diorama: Sadly this was meant originally to take place in downtown pittsburgh but I realized it was too big a task for one month so now its post apocalyptic dirt country road with items I forgot to put into teh pictures. The built up dirt to narrow the old road is paper machete and its potting soil for dirt. In the background is a small N scale railroad house. The other bike is a Maisto 1/12 scale SuzukiGSX R 750. This is far from what I had planned but I couldn't get the scale right for everything, however I do plan on redoing it once I learn diorama building.

Story: War, war never changes. From the deal of Abel at the hands of his brother to the day fire rained down from the heavens man has strived to tame his urge to destroy with failure always being the one result. Life in the wasteland has never been easy, even for those sealed away in the vaults. Krazy Wolfypaws and Kaya Wolfclaw know this better than most having grown up sealed away inside a secret research vault in the wilds of the Alleghany National Forest known only as Tartarus.
They escaped from the vault, after learning that their mutations were forced upon the survivors two centuries before in cruel experiments,only to find themselves hunted by humans and supermutants alike. They manage to survive through luck, skill, and the aid of ghouls who sympathize with them. They're luck changed one day when they came across an abandoned farm roughly 70 miles outside of the ruins of the Pit, also known as Pittsburgh, and along with it the long sealed fallout shelter.
Inside the shelter they find the corpses of the survivors along with a massive stockpile of supplies. As the inventoried and moved all they could carry into the hidden garage of the shelter they never knew they were being watched. On the 6th day the Raiders attacked,forcing the two into the shelter, and began to steal anything they could get. The tide turned with the arrival of Cobalt Crimson and his arsenal. Ripping into them with his claws, teeth, and guns he devestates them only to be forced into the shelter as well as reinforcements arrive. It is once inside that the deal is mad. In exchange for all the items he can carry he'll offer them a place to stay and rest at his ancestral home nearby. The two don't trust this odd mutant at first, thinking it impossible for another like them to exist not born inside their Vault, until they eventually learn of FEV (forced evolutionary virus) mutations.
As they escape from the garage on his bike and the one working model they found inside he detonates the fusion cells inside the power room and vaporizes the raiders and the remaining supplies that aren't sealed safely inside the garage area for later pickup. They now travel out from his home trying to make the world a little easier to live in.