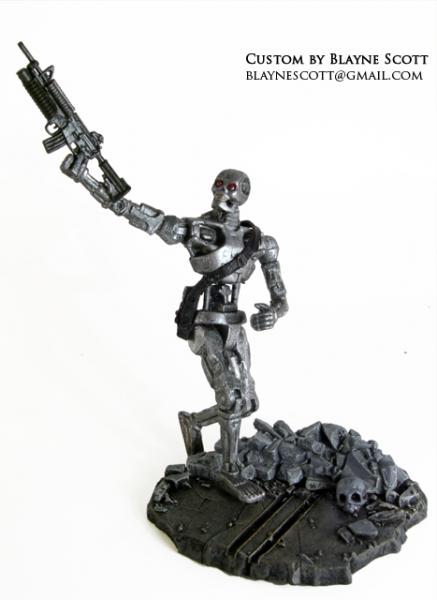 | | |
| --- | --- |
| Custom #: | 14678 |
| Name: | Terminator 2: T-800 Endoskeleton (3.75" / Super-Articulated) |
| Custom Type: | Action Figure |
| Toy Series: | Terminator |
| Creator: | blaynescott |
| Date Added: | May 14, 2009 |
| Base Figure: | A Rare 1992 Kenner Knockoff 3" T2 Endo Figure |
| Height: | 3.75 inches |
::::Primary Figure:
-I found a fairly rare 3" knockoff figure based (loosely) on the 1992 Kenner Endoskeleton figures mold. Someone overseas apparently recast it, scaled it down, and went about manufacturing them. I found mind on a website, then set to work super-articulating it.

-You can see the odd assortment of articulation stratagies I used while figure out this figure out. After chopping it into pieces, I tried used a string of ball bearings (from a kitchen sink stopper), shoulder joints from a GI Joe, and a few other failed attempts.

-I settled on using an internal joint from a Marvel "Face off" 3" Punisher as the 'abs' of the figure, connecting the pelvis to the upper torso.

-I used Aves sculpt to create new joints, and the figure has an excellent range of motion as a result.

-To joint the neck, I used a plastic length of cord with a ball at the end to prevent it from pulling out of the neck socket. The jaw came from a Skeleton figure.

-Since the original figure was 3", and not 3.75, I cut into/extended the runty legs to make the figure proportional to a GI Joe. Using Aves sculpt/hobby knife/Dremmel, I recreated the thigh metal pattern and pistons.

-For the arms, I used a Star Wars (modern) 21-B Medical Droid's legs as shoulder joints. I then cut the Terminator Endo-biceps into two pieces, dremmed them out, and made a sandwedge with superglue in the middle around the pipe-like appendage of the 21-B's former leg. For the lower arm, I simply heated and swapped out the forearm.

-Painted the entire figure black, and dry brushed on different layers of gunmetal and silver.
-Sealed with Vallejo Matte Varnish.

::::Accessories
-The original base came with a McFarlane 7" scale figure - however, it was easy to rescale the rubble by adding a small skull, and repainting the entire base FutureWar Gray-Blue.
-The human skull on the base-stand donated it's jaw (resculpted) to the Endoskeleton figure.
-The Assualt Rifle (dry brushed with gunmetal gray and a laser sight dot added to the under-gun) came from a Miliary accessory pack
-The Ammunition carry on came form a GI Joe Snake Eyes figure.

Note: I created this GI Joe-sized Terminator Endoskeleton figure last year before the release of any Terminator:Salvation figures. Much of this work would be unnecessary now with the 3.75 figure line released by Playmates.

So very much work for such a tiny figure - but it turned out well, and holds up surprisingly well to the Newer Endoskleton figures, although this one has wider shoulders.

I like to think this model of Endoskeleton would be underneath the Schwarzenegger-body frames, while the newer, and slimmer T4 Endo figure would be the infiltrator types that fit a smaller, more realistic human frame.