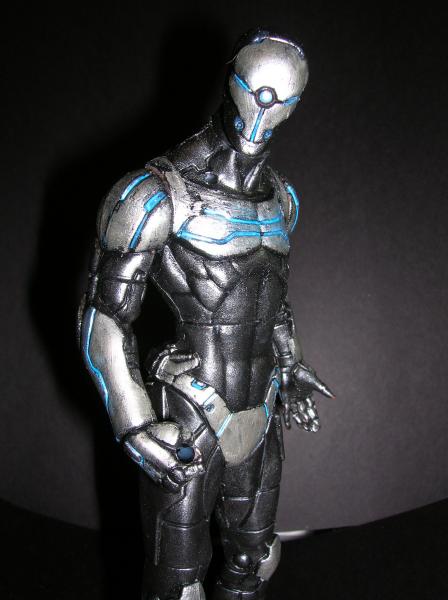 Jacob "Mace" Maison was born into privilege; his father, Clark Maison III, was a robotics engineer who has overseen projects within SHIELD and Stark Enterprises while his mother, Tabitha Ellis-Maison graduate of the UCLA School of Law and classmate of Jennifer Walters, became a Super Hero Rights lawyer.

While Jacob's father was rarely around due to work commitments his mother meticulously tried to insert him into the lifestyle they had become accustomed to, one that they felt he deserved. Imagine the surprise when after graduating at the head of his high school class he proclaimed that he would be joining the military to protect the country that provided so much for him and his family.

Outraged that his son would not follow in his foot steps and find peace in the world that he worked so hard to create for him while also understanding the dangers that could potentially lie out in the battlefield, since he created most of them, Clark Maison decided to try to persuade his son to choose a different path in life.

During his going away party Clark had planned to use some of his robotics to stage an attack against him and his family, all the while making it look like the work of Victor Von Doom. However, control was lost of the cyborgs and as they uncontrollably attacked target after target Jacob dove in the way of an oncoming attack that was aimed at his mother. The blast was fierce and concentrated and thusly obliterated most of Jacob's being, all that remained was his torso and head, everything else was lost. His spine was crushed and he was fading fast.

Feeling the guilt of what had occurred; Clark phoned for SHIELD operatives and quickly took what remained of his son's body to his lab. There he outfitted him with the latest technology, a suit that combined the collective designs of Iron Man, Dr. Doom, the Vision and Shi'ar technology into one item, one being. Most, if not all, of the power supply was used to keep his son alive; therefore, there would be no weapons available for him, just the power of the suit.

Clark feared that his secret would get out, the secret that he destroyed his son only to bring him back stronger than ever, the secret that his greatest creation was also his greatest failure, both as a person and as a father…

… but when there is so much technology in use, secrets are hard to keep.

Formula:

MGS 1 Ninja Body - basecoat black, drybrushed Gunmetal Silver (Tamiya), certain ares then drybrushed with Titan Silver (Tamiya)

"Glow piping" created with light blue, then pearlized light blue and then some white.