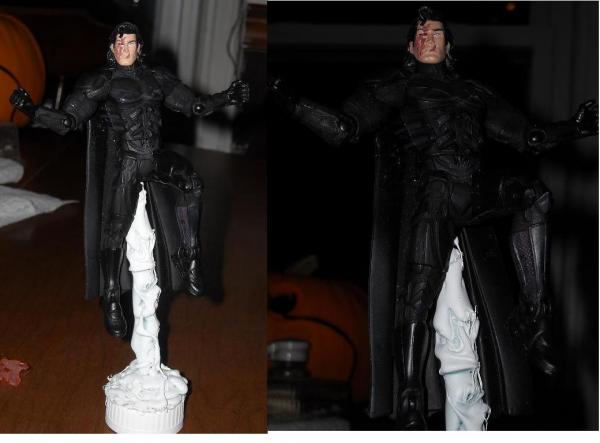 | | |
| --- | --- |
| Custom #: | 17982 |
| Name: | Dark Son Superman |
| Contest: | Post-Apocalyptic |
| Custom Type: | Action Figure |
| Toy Series: | Superman |
| Creator: | wesr |
| Date Added: | October 31, 2009 |
| Base Figure: | Movie Master Dark Knight Batman |
| Height: | 6.00 inches |
It was during a dinner to present Clark Kent with an award for Journalism that a small girl, carrying a gift from a fake charity, put a kryptonite bullet into his skull via his right eye before he had a chance to react due to a kryptonite stun grenade contained in the gift. He was outed as Superman on every news medium within hours by Lex Luther. Luther, and numerous other villains, then declared war on all superheroes and within 5 years all the heroes were either dead or retired. Luther and the villains have taken over the world and any nation that refuses to bow to them was destroyed. Some fought back with weapons of mass destruction that devastated the globe and forced those loyal to Luther to move into massive floating cities while the ruins are patrolled by villains or machines.
Flash forward 20 years. Lois is the head of a local resistance group and comes under attack by a machine patrol, however she is personally killed by Luther from his nearby floating city via sniper rifle as the city passes over. Her death scream fills the streets and manages to penetrate the abandoned and nearly destroyed tomb of Superman. He snaps awake from a coma and breaks free only to have Lois die in his arms as a young girl she was with watches in shock from cover. Lashing out in rage Superman lets loose with his heat vision and destroys the floating city, killing all but 3 of the 400,000 men, women, and children on board. He suddenly realizes what he has done but feels no remorse. After burying Lois, taking the girl to safety, and catching up on what happened he goes to the fortress of solitude and turns his back on humanity.
It is inside the fortress that he finds his father, a hologram, who he thought he had lost touch with years ago. His father speaks of the shame he feels and how Kal-El has turned his back on those who need and cared for him. Time passes and with it the rage grows, the hatred for Luther and all who took the world he loved from him. During this time the Superman Cyborg locked onto Superman's DNA and launches a kryptonite infused nuclear missile from the floating city that is his to rule. Superman and his father are having another fight when finally Jor-El gives in and presents his son with a special suit of armor based on that of kryptonian special forces. It will make up for the unhealed damage fro the bullet that nearly killed him, channels his heat vision into its gauntlets, and will give him greater protection. Jor-El also presents him with a final gift: a black crystal that will awaken his full potential and the title "Dark Son Of Krypton".
Right as Superman accepts them the missile hits and the fortress vanishes in a massive explosion of ice and steam. As the Cyborg watches on his monitors the area settles down and refreezes quickly but his win is short lived as the area that was formerly the fortress glows and the House of El's "S" insignia suddenly appears. In a brilliant flash the newly reborn Superman rises from the ice and steam. He looks in the direction of the Cyborg's city, despite it being on the other side of the planet, and in a panic the cyborg fires and energy weapon that warps reality and slams into Superman. Unhurt, aside from his insignia being burnt of the suit, Superman focuses what used to be his heat vision into his gauntlets and the Cyborg instinctively knows that the end has come.

This Superman is from a fan comic I have in mind that shows his fall from hero and his redemption. He's meant to have just been hit by the energy beam so I have the hot glue energy running over his chest and his gauntlets glowing. I painted his scars a darker color so they stand out. The body is a MM Batman and the head is a normal long haired Superman. I didn't have time to put the insignia on his chest so that is a project for later. The stand is a pill bottle lid with a hot glue base. I made a mass of glue and then used a mechanical pencil tube for the support and surrounded it with glue. The clip is from some extra thing I had and fits perfectly into the back of the figure's waist where the utility belt used to be. I painted it white to look like the clouds/steam moving around him as he rises from the ice and is hit by the energy beam.