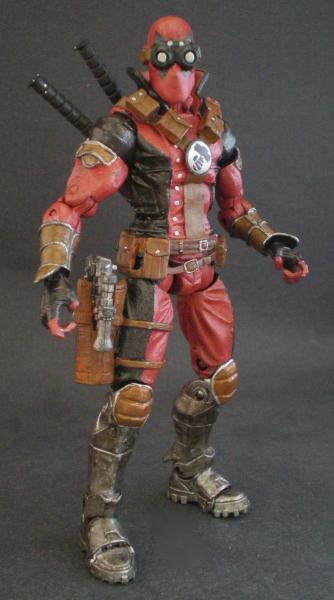 I almost hate to say that this is my 4th Deadpool, plus I have two more in the works. I take solace in none of them being a "vanilla" DP yet though. I think I've narrowed down the reason he's such a popular custom: I think it has a lot less to do with the character, and a lot more to do with the fact that he's easy to make, he's versatile, as he says often in the comics he has a very fetching color scheme, and its an excuse to load up a guy with guns and swords.

The idea for this guy actually started out as a Steam Punk Deadpool, but I really really wanted to use those night vision goggles, and they just didn't mesh with the vibe, so I went a different route. He's partially inspired by Aschs Spiderman, Agent of SHIELD, and I like to imagine they exist in the same alternate universe. When ever I look at him, I see a less wacky (emphasis on "less" though still crazier than anyone else), more sadistic character that readily took advantage of Norman Osbournes call to arms. His red is actually a little bit deeper than is showing up in the pictures, but I'm ok with that, it still looks good. I wanted to go for a kind of stippled, dirty metal look on his boots, which I was only mildly successful with I think. I originally was going to leave his mask completely red, with the goggles adding the black, but my girlfriend suggested I add his "eye diamonds", and I think it was a good call.

Head - ML Bullseye with sculpt
Goggles - XMC Stealth Wolverine
Collar - ML Longshot
Torso/Upper Legs - HML 2-Pack Captain America
Arms - HML 2-Pack Hand Ninja
Hands - HML 2-Pack Ultimate Nick Fury
Belt - HML 2-Pack 616 Nick Fury
Holster - ML Bishop
Knees - ML Bishop
Lower Legs/Boots - ML Modern Iron Man
Long Knifes - LCBH Clownface
BFG - I'm2 Warmachine oversized gun and handle of a TRU soldier shotgun
Pistol - Unknown
Chest pouches - HML 2-Pack Captain America

Enjoy guys, he's going to be avilable at the end of the week.