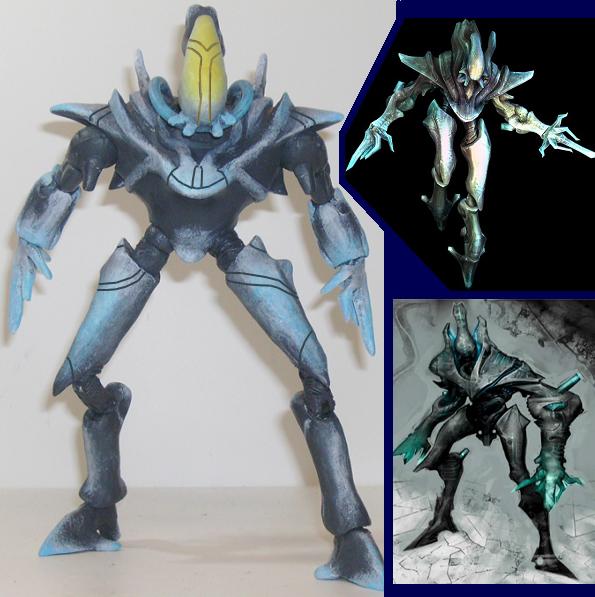 | | |
| --- | --- |
| Custom #: | 22386 |
| Name: | Rundas |
| Custom Type: | Action Figure |
| Toy Series: | Metroid |
| Creator: | Batman1016 |
| Date Added: | June 14, 2010 |
| Base Figure: | Legendary Comic Book Heroes Judge Death |
| Height: | 7.50 inches |
Ta-daaaa! Finally, after forever and a half, I'm finally posting the final figure in my second series of Metroid customs! The next Metroid figure I post will be the Build-A-Boss, and then I'm taking a break figure building while I get ready to move to another town! However, I hope to take pictures of some of my other, older custom work so that I have some stuff to post here in the interim. Ninja Turtles and Marvel Heroes and whatnot. But for the moment, let's look at the final bounty hunter from Metroid Prime 3: Corruption, the frosty, imposing Rundas!

The first corrupted hunter you fight in the game, Rundas is a Phyrigisian ("frigid" . . . get it?) with the power to generate ice. Much like the X-Men's own ice man, Iceman (creative name, no?), Rundas can create ice slides to travel, as well as shots, towers, missiles, spires, and traps using his frosty powers. Despite his bulk, he is surprisingly agile, and at the end of the first planet in the game, he saves Samus from almost certain death after a long fall down a reactor chute.

Like both of the other Corruption bounty hunters, Rundas was a challenging build. Ghor required engineering ingenuity. Gandrayda required creative paint solutions. Rundas required an OBSCENE amount of sculpting, to the point that the base figure is not only invisible, it's completely unrecognizable. I started out with a Legendary Comic Book Heroes Judge Death. Can you tell? At all? The only places where the original figure is still "visible" is at the hips and knees. The rest of the body has been thoroughly coated in thick layers of Loctite Epoxy Putty and Crayola Model Magic paper clay.

To create Rundas' bulky upper body, I used the torso from an old ToyBiz Marvel Vs. Capcom Zangief figure that I had lying around. The base for the head and feet of the figure were from a Marvel Legends X-23, and the beefy arms and shoulders came from a DC Superheroes Batman. Piles of putty and a multi-leveled paint app later, and Rundas was more or less complete. I still have yet to create his ice accessories or his Phazon Armor like the other hunters, but I wanted to get this guy up as soon as possible. I'll post updated pics as soon as I get the chance.

See you next mission!