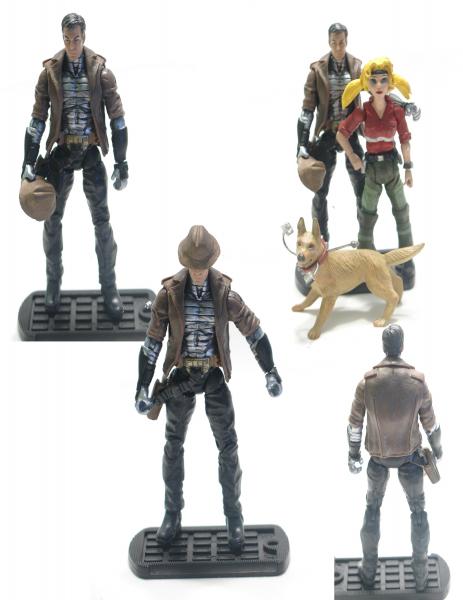 I Introduce to you, the great Inspector Gadget. The Recipe is simple, a few Wolverine Origins figures, a Star Wars rebel pilot head and a sculpty hat. His weapons and "gadgets" are various weapons and bits from my fodder bin. I gave him good dry brushing.

PLEASE KEEP IN MIND, THIS IS NOT THE CARTOON VERSION. THIS IS MY VERSION OF THE CHARACTER.

Follows is a in-depth background story that I wrote about Inspector Gadgets background.


Code Name: Inspector Gadget
Name: Lieutenant John Brown

Metro City, where law and order have begun to break down. Lieutenant John Brown of the Metro City special crimes unit was working a case that involved several homicides in numerous scientific laboratories owned by M.A.D Industries it was a case that he had been working for an aggravating five years, until on evening he received a tip off out of the blue that in the next few hours one of the main M.A.D labs was going to be hit.
He left for the lab to check it out and hopefully catch this guy before he killed again. As he pulled up to the gate and guard post of the M.A.D alpha science lab a white utility van came speeding out of the parking lot and drove straight through the guard barrier. John took off after the van, radioing dispatch that he was in pursuit. In a high-speed nerve-wracking chase through downtown Metro City to the outskirts where the Metro City docks are located, he was right on the van, but he noticed that he was without any backup at all, he radioed again to dispatch with no answer.
The pursuit reached the far ends of the docks where the shipping containers were stored. He chased the white van down a row of containers until the van's brake lights blared in the night. They had run into a dead end. Before John could do anything a tall lengthy white haired man stepped out of the van with a short range rocket launcher and fired at his cruiser and then blackness.
All that ran through his mind were images. His father, Metro Cities finest Inspector who lived his life by the book, always by the book. His sister, One of the worlds most renound scientist, before she was killed working in a M.A.D lab. His little niece, lost and without no family, crying every night for her mother. It was his little niece Penny, sitting alone and crying that made him realize that he wasn't done, he still had work that needed to be done. It was time to get up. When he started to open his eyes, bright lights blinded him. The sound of electronic beeps and whirs deafened him, the smell of wet cold metal, blood, and oil burned his nose. He could not muster any words in his throat. "John?" a raspy voice called to him, he recognized it in his mind. "The Chief" he thought. "Can you hear me?" the voice grew louder, the sound of a chair being moved. "You were in a terrible accident John." His eyes grew clearer and he could see the ceiling tiles. "You died john, and I thought we lost you." There was a sound, a door opening. "Lieutenant Brown, I see that you're awake." A chair sliding again, "He just opened his eyes Doctor." The sound of papers being shuffled. "Very good. Can you hear me Lieutenant?" He was able to manage a soft head nod, which was followed by utterly intense pain. "I see." More papers shuffled, and a pen scribbling. "What happened out there john?" the chief asked, "When the boys got there, you were..." His voice trailed off, "Chief I'm sorry but we don't need to bombard him with all this, let him rest, he's got a long way to go." His eyes started to get heavy. "Will he ever be the same again?" the chief asked. "No." the doctor replied as the darkness returned.
The Images returned, like an old fuzzy slide show. Images from his childhood, of his mother and sister crying at his father's funeral. The day his mother died. The day his sister left. His first day at the police academy. The day his sister got married. The day his niece was born. The day his sister died. The day he met his niece for the second time. The man with white hair...
Several weeks went and he came to learn that he had died in an explosion. His body was destroyed. His sister had always insisted that if something ever happened to him, like what happened to there father that he should let science help. He learned that his sister was working on NanoMobots, an artificial and robotic prosthetic development which is used to replace organs and body parts. With this technology he was able to live again, although greatly different than before. He learned that his body was now a living weapon able to replicate any weapon, gizmo, or gadget that he needed or wanted. Over the next 3 months he went through re-habilitation. He learned how to use the nanomobots, to control them and to harness there full power. He learned that his sister had all of this waiting for him, before her death she wanted to make sure that she wouldn't loose him like they had lost there father.
He also learned that his niece Penny had become a target, due to her advance knowledge of her mothers work in nanomobots, she was the only one who held all the secrets in there technology and creation. She was now in grave danger and needed a safe place to stay. After John learned of this, he knew what he needed to do. He must protect penny and defeat this menace that was after her.
The day that he was discharged from the Metro City Science labs, He looked in the mirror at what he had become. His body was now metal, his soul now ticked, and yet his heart still felt anger, hatred, and sadness. He put on his hat and walked to the door of his room. Chief Quimby was waiting on the other side. "John, its time." He smiled, "I always enjoyed your company chief." He replied. "Here the short version of it John, your dead to the world. Nobody knows who you are or where you come from. Take this opportunity to get out of this hellhole of a city." He stopped, "Take this John." He handed him a thick envelope. "It's a little something to get you as far away as possible." The envelope contained almost 800 dollars. "I've been saving it for a while, take it." John shook his head and handed the envelope back to his friend. "No, I have unfinished business to take care of, you know that." The chief had a small grin on his face. "I knew you'd say that...Inspector." John stopped and looked back to the chief, "thank you." The chief patted him on the back. "Your father would be proud, son." Then he changed back to a serious tone as they stepped inside the elevator going down. "You need a new name inspector, since john is officially dead." He thought for a second and it just came to him. "I like gadget, it has a nice ring. Kind of threatening in a way." The chief gave a small chuckle. "You got it Gadget."
As the walked through the elevator doors to the lobby, "There's someone here to see you gadget." He looked over at a little blonde hair girl with pigtails and her dog sitting on a bench staring out the window at the clouds. "Take care of her gadget." He looked over to the chief, "I will, she's the only family I have left." The little blonde girl with pigtails looked over to the two men, and a smile lit up her face. "When are you coming back inspector?" the chief said as gadget opened his arms to the girl who was running towards him. She jumped into his arms and gave him the biggest hug he'd ever had. "Uncle!" she proclaimed. "Don't worry chief, I'm always on duty." he said as he carried her still hugging his neck out the front door.