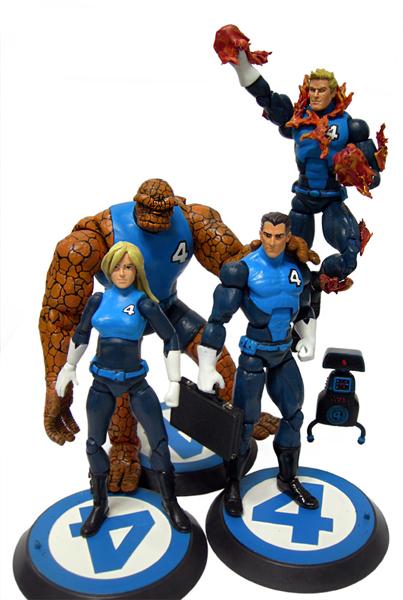 A modern take on the "Fantastic Four", re-imagined as a serious military/industrial science team.




:: Recipes:

: Susan Storm:
-HML two pack Maria Hill (torso/hips (modified)/knees, lower legs, belt pieces)
-HML two-pack Nick Fury (belt pieces, and measured/cut sections for boot-detail)
-ML Invisible Woman (Boxed Set) arms, modified)
-DCD Firebird (Armory Series, alt. head)
-SOTA Cammy (flexible front-hair section)
-ML The Wasp (pelvis interior, hip joints, upper legs)
-Sculpting with Aves Fixit.

: Reed Richards:
-ML Doctor Strange (headcast, resculpted)
-HML two-pack Nick Fury
-HML two pack Maria Hill / Nick Fury belt pieces
-DCUC hands (spliced at wrist/sculpted over)
-HML Nick Fury Straps (measured/cut to size for boot-detail)
-NECA 'The Hitman' (Briefcase)
-Sculpting with Aves Fixit.

: John Storm:
-DCUC Aquaman (head)
-HML two-pack Nick Fury
-DCUC Doctor Strange (right hand, spliced/sculpted)
-DCUC fist-hand (left,spliced/sculpted)
-HML Nick Fury Straps (measured/cut to size for boot-detail)
-x4 5mm 'hockey puck' Neonium Magnets (in biceps, front of torso)
-x1 8mm Neonium sphere magnet (embedded in torso)
-x10 2mm-3mm Neonium magnets (for flames)
-x4 small screws (magnetic, embeded into figure)
-ML Human Torch neck-flame (modified with superglue and hot-glue)
-x8 Custom made, magnetically attaching 'flames'
(hot glue over tinfoil, undersides sealed with liquid superglue)
-x2 detachable hand flame 'gloves' (tinfoil/hot glue/superglue)
-Sculpting with Aves Fixit.

: Benjamin Grimm:
-ML Series 2 The Thing
-Fused rocking torso, sculpted over torso.
-Sculpted longer 'shorts' with Aves Fixit.
-Belt buckle from a 12" Action-Man style '90s toy harness.
-Figure-package wire anchored/superglued for shorts 'rims'.

: Robot, B-type: "Ro.B."
-ML FF Boxset HERBIE
-Resculpted facescreen, and repainted in a Tron-esk color scheme.
-Hardplastic, raised, painted sticker for his "HAL900"-esk eye.

-x5 "4" logo stands all came from a FF4 Boxed set. Used a very thick, watery model paint to create a pearly-white, uniform surface over the dirty-white that the stands came with.

-"4" logos were designed in Photoshop, sized and printed on Testor white decal paper.
-After being applied, I used a very fine sharpie to outline them in black, along with Ben Grims rocky skin, and other high-contrast/shadow areas (belts, etc.)

-All figures were repainted head to toe in Vallejo acrylics. All large black areas were painted with Testor flat black acrylic. Figures were then sealed with liquid type Superglue, and sealed with Vallejo Matte varnish.