Darkmount (Transformers - Generations) Review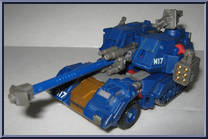 Darkmount
Transformers - Generations (Hasbro)"Few robots achieve the same legendary status as Megatron, but darkmount is one. he is just as famous on cybertron as the impenetrable fortress that bears his name. from there, he ruled his small corner of the machine world with an iron fist, controlling his subjects with an equal measure of fear and pain. So terrible was his rule that even Megatron gave him a wide berth, and treated him with the respect due to an equal." - Back of package.

That sums up Darkmount (straxus in the Marvel comics)in the transformer universe and the figure because he will punish you. The figure is a triple changer, a plus, which offers the half track (an oddly earth like vehicle for cybertron)as well as a base mode and the robot mode. Transforming him from vehicle to robot is easy but the transformation to base mode is difficult and never looks as good as it does in the instructions which are vague at best. The head sculpt is a dead on for the comic book straxus and the pick axe weapon he carries doubles as his cannon barrel and looks like a rather painful way to die. The paint is clean and the joints are tight. I have to give him a 3.5 out of 5 due to the instructions and the poor transformation into the base mode which ruined a really good chance for a memorable triple changer.



by somebody1

Write your own review for Darkmount

User Comments
Transformers Generations on eBay
Previous / Next Reviews