Hercules II (Archery Combat Set) (Hercules - Legendary Journeys) Review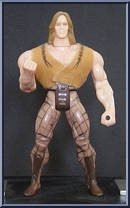 Hercules II (Archery Combat Set)
Hercules - Legendary Journeys (Toy Biz)I loved watching the show (back when they still gave it... :[ ) so I am so happy this figure was made.

Hercules stands a bit over 5 inches tall, which is great because he's supposed to be taller than everyone. He was made in an animated-semi-realistic style (not too much detail but enough so that he looks like he did on the show) which is also great because he fits right in with almost any other 5-inch animated toy series! Toy Biz did a splendid job with the head sculpt, it almost looks exactly like Kevin Sorbo (who played Hercules on the show). He has one of the best long-hair sculpts I've seen. Herc has a punching feature which is a curse and a blessing. This is a fun feature because when you press the button on his back, his right arm rises and his elbow stretches out, making it look like a real punch! (And he punches hard!). The forearm can be twisted so you can make him uppercut as well. The down side to this is that his right shoulder was made SLIGHTLY larger than his left to fit the parts to make him punch. Not a big deal.

Hercules wore a loose cloth vest on the show and thankfully so does this guy (the color of it is a little darker brown than the show but still looks good). It is made of fabric and can be taken off to display his rippling muscles. The quality of the criss-crossing brown paint job on his pants varies from toy to toy but it good for the most part. His boots are decent. They were painted on but they get the job done. The belt looks good (although I cant remember if he even HAD belt :D ). Herc also comes with those cool arm-guards he wore on the show which can be taken off (although I dont know why you would want to!). He also comes with a bow but it isnt even worth mentioning since its isn't too functional and Hercules didnt like using weapons (although apparently he is a master at using many kinds of weapons), as his placid demeanor indicates. There were some other versions of Herc made with diffrent weapons and different vests. I'd recommend getting the one with the "assault blades" because that one has an angry "I'm going to tear you apart!!" face, but if you want to have the original, the star of this review, then buy the one with the bow weapon.


by Henchmen4Hire

Write your own review for Hercules II (Archery Combat Set)

User Comments
Hercules Legendary Journeys on eBay
Previous / Next Reviews
| | | | | |
| --- | --- | --- | --- | --- |
| Moon Knight | | Submission Order | | Iolaus |
| None | | Hercules - Legendary Journeys Series | | Iolaus |
| Moon Knight | | Written by Henchmen4Hire | | Iolaus |