Soldiers of A.I.M. (Baron Zemo) (Marvel Legends - Infinite Series) Review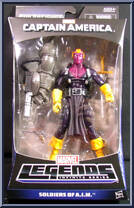 Soldiers of A.I.M. (Baron Zemo)
Marvel Legends - Infinite Series (Hasbro)Being released in 2013, as part of Mandroid Series, Baron Zemo (Soldier of A.I.M.???) is one more figure to use the Bucky Cap mold (who has been used a thousand times since then). To be honest, a character with the relevance of Zemo deserved a better figure.
Being fair, the Bucky mold fits well this time. It has good proportions and an atletic average built. The lines of the mask are well sculpted. It has a removable harness with two holsters with guns. It would be awesome if the guns could be removable from the holters, but they are sculpted into it!
The paintwork is sloppy. No shadowing effects, colours that don't match with the comic character, and the purple ink barely cover the yellow plastic of the forearms.
On the other hand, the articulations work fine, a fact who justify the use of this mold (who has perfect articulations). Only the skirt somewhat limits the legs, but it's not a big deal.
The figure comes with tow weapons (and also an arm of the Mandroid BAF), a sword and a pistol. The pistol resembles a German Luger pistol, with a hold mimic leopard skin. In the belt there's place to hold one of the weapons, while the other one is place in the hand.



by kingdiegond

Write your own review for Soldiers of A.I.M. (Baron Zemo)

User Comments
Marvel Legends Infinite Series on eBay
Previous / Next Reviews