Green Arrow (Justice League Unlimited) Review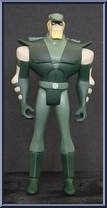 Green Arrow
Justice League Unlimited (Mattel)Look Everyone, It's Green Arrow. This is the part where you scream out in giddy joy. Now that you've restrained yourselves, allow me to continue with the review.

Finally Oliver Queen has been placed into the almost-5-inch scale. It only took what, since Total Justice came out, about 7 to 8 years to do it? Even longer if you count in the short Super Powers version of him, but I shall show no more hostility towards the makers...those lazy, lazy makers...

Our beloved Emerald Archer stands at 4.73 to 4.75 inches with basic 5-point articulation. There is something about the leg molds of this new Justice League line that makes most of the figures have some sort of minor standing complication. It's as if they all have one leg slightly shorter than the other. You wont have to fiddle too much if you just put some spirit gum under his boots to keep him in place. If you buy Oliver in the 3-pack along with Flash and Dr Fate you will only get his quiver with the trick arrows sticking out, but no bow. The quiver is removable and doesn't scratch the paint job when being taken on or off because it has a small peg that slides into a small hole in his back. If you buy him in his individual package, he does come with his green bow, quiver, and I think a Green Lantern trading card. Green Arrow's resemblance to the JLU cartoon is uncanny, even down to his feather-skewered hat, stylish blond hair, and goatee. The vest he wears on the show and in the comics has pointed shoulders, and to prevent little kids from stabbing themselves, Green Arrow's vest was made with stiff rubber and the vest's shoulders were rounded off. But don't fret, none of this affects his coolness factor, it just gives his chest a slight rubbery feeling.

My complaint with Green Arrow is the same with all the other JLU figures, they're too short. I feel sorry for those people who bought all the Total Justice line only to have it come to an untimely end. Now they have to start rebuilding their League with these smaller verions. And not to mention that almost all the animated-style Marvel figures made back in the 90's tower over these new Justice League toys...



by Henchmen4Hire

Write your own review for Green Arrow

User Comments
Justice League Unlimited on eBay
Previous / Next Reviews
| | | | | |
| --- | --- | --- | --- | --- |
| Supergirl | | Submission Order | | Batman (Detective) |
| None | | Justice League Unlimited Series | | Superman (Anti-Amazo) |
| Supergirl | | Written by Henchmen4Hire | | Batman (Detective) |