Heroes of Middle Earth Gift Pack (Lord of the Rings - Two Towers) Review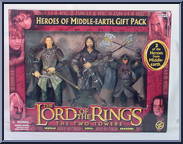 Heroes of Middle Earth Gift Pack
Lord of the Rings - Two Towers (Toy Biz)Obviously there are a lot of repacks and multipacks in general but this was one of my favourites when I got as a kid and unlike other Aragorn Legolas and Gimli multipacks this ones one of the only all characters correctly attired ones timeline wise as these 3 are in their Helms deep gear. Gimli is a standard Gimli with his double headed axe throwing axes and walking axe as well as a vinyl Elven cape which isn't the best and he is limited in articulation due to his squeezing legs to throw and axe loaded in his hand feature. Legolas comes with his bownif tr galadrim, two daggers, arrows and a Rohan sword for when he rides out at the end. This figure is fine but is a bit too tall and has not he best possibly one if the worst headsculpt sand hair sculpts that hangs backwards. Also again I'm not keen on large plastic cloaks that get in the way. Lastly this set comes with my favourite Helms deep Aragorn, whilst he super articulated one has it best on movement this one just looks more accurate in certain respects. He comes with his sword and dagger and has the best Vigo likeness in my opinion though there are variants with painted loose hair that aren't great and the paint apps on the face vary, I have used this head for my Aragorn in my fellowhip custom post and black gate Aragorn custom figures because f looks newutrsl and captures his face well. It's a good set to get if you already have the other relevant Helms deep characters.


by Deaditor

Write your own review for Heroes of Middle Earth Gift Pack

User Comments
Heroes Of Middle Earth Gift Pack on eBay
Previous / Next Reviews