Dr. Alan Grant & Velociraptor (Jurassic Park III) Review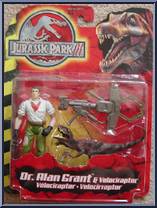 Dr. Alan Grant & Velociraptor
Jurassic Park III (Hasbro)The paint job of Grant himself is fifty-fifty. Though his white shirt is pretty bland and little detailed, his green pants make up for it somewhat: they have two tears over them (as does the figure's skin under the holes in his pants), making it appear Grant has had a near miss with some ferocious creature, maybe a Velociraptor. The pants also sport some darker green tones, giving them more realistic detail.

The weapon is rather lame: it looks pretty unrealistic and doesn't really work. The figure can hold the weapon (the position of his arms seems to be made to support it), but when he does he can barely stand, since one of his legs is positioned in a forward move, making it feel rather clumsy. Also, when the weapon has the dinosaur clutched between its grabbing arms, it can hardly hold him, because there is no way to keep the arms closed.

The dinosaur is of a less poor quality. This Raptor stands in a stalking posture with his mouth open, like he's planning to jump on something (like Grant). The dinosaur can clutch Grant's arm between his jaws, if you want him to of course. Though the paint job is nothing special, not bad but not particularly good either, some credit goes to the person who decided to also paint his claws, instead of giving them the same colour as his limbs. One can claim this Raptor is supposed to be a juvenile, but he doesn't really look like a young Raptor, more like a miniature version of a regular Raptor, like most of the dinosaurs that came with the JP III figures.

Not particularly interesting, but if you can get it cheap (which is not unlikely, since it's a common toy) you might want it, though mostly for the dinosaur figure and the paint job of the pants.


by Wasacoolday

Write your own review for Dr. Alan Grant & Velociraptor

User Comments
Jurassic Park III on eBay
Previous / Next Reviews