Boba Fett (Star Wars - Power of the Force II) Review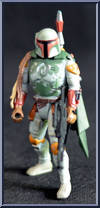 Boba Fett
Star Wars - Power of the Force II (Kenner)Boba Fett, the galaxy's most infamous but honorable, cruel but human bounty hunter

As a figure from the 1995 Star Wars:Power of the Force line, Boba set some nice standards. Standing at about 3.75 inches, he left a big mark on the series. He comes with several accessories, his laser rifle, a wookie pelt and a removable jetpack. The blaster is a very close replica that fits nicely into either of Boba's hands without much trouble and doesn't fall out easily. The wookie pelts are cool to. The act kinda like a scarf and fit around Boba's neck, hanging off to his right but not obstructing any movement. They are semi-moveable allowing them to bend for a little bit of posing. The jetpack, which could have made or broken the figure with how it fit on, is quite good. Its an exact replica of its move counterpart and fits onto Boba via a clip. in the very middle of the pack, starting from the bottom and going halfway up the pack a "U" shaped notch is cut out. On Boba's back, a "U" shaped piece of plastic juts out of his back(not randomly but it looks like if they stuck it on in the molding). The "U" shape cutaway then slides over the "U" shape jut and attaches to his back. While it looks really weird without the pack on, when its on it fits perfectly and the "U" notch on his back cant be seen at all.

Boba's paint job is very impressive. He sports his usual Mandalorian armor in its trademark green style. The helmet is mostly green except for the visor being black and the trim being the red color. His gauntlets are also red like in the movie. His body suit is a flat grey and he also has yellow shoulder and knee pads, the left shoulder pad even has a small Mando symbol on it!!! The jetpack is also standard movie style and the blaster is a flat black. The wookie pelt is brown(the rope connecting it, tan(the pelt) and green(the part that connects to Boba)

Boba also has standard Star Wars articulation at the shoulders, thighs and at the neck. Again, the wookie pelt, when on, doesn't obstruct neck movement at all

This figure is really well done for Star Wars. It features not only the key parts of him from the movies but also all the smaller parts, such as the shoulder symbol and the armor is hit with small spots of silver to look like battle damage. Overall a well done figure.


by Mr-X

Write your own review for Boba Fett

User Comments
Star Wars Power Of The Force II on eBay
Previous / Next Reviews
| | | | | |
| --- | --- | --- | --- | --- |
| Spider-Woman | | Submission Order | | Stormtrooper |
| None | | Star Wars - Power of the Force II Series | | Stormtrooper |
| Spider-Woman | | Written by Mr-X | | Stormtrooper |