Spinosaurus (Jurassic Park III) Review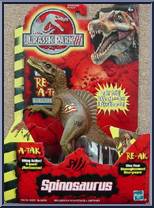 Spinosaurus
Jurassic Park III (Hasbro)Yet another figure done in by his size. While I can see making the Spino a bit smaller then his movie size, they should have made him bigger. Though his size stinks, it really is his only problem

The Spino is actually pretty good once you get past his size. Like most other dinos, he comes with DD and a roar feature. The DD is again a rib bone in the open wound. When pushed he lets out his pained cry. The roar feature is much like the Raptor, you push a button on his neck in and his mouth opens and releases a roar. This is cool because it allows him to grasp other figures in his jaws.

Color is really close to the movie likeness. His whole body is a dark brown color, like in the movies. His fin is also brown but has blue stripes across it. His claws and nails are the typical black color while his tongue is pink.

Articulation is pretty good here. He sports movement at the jaws, arms and legs, which is enough to pose him well and have him stay up.

Another good figure that could have been better had his size been done correctly.



by Mr-X

Write your own review for Spinosaurus

User Comments
Jurassic Park III on eBay
Previous / Next Reviews