Carnotaurus "Demon" (Jurassic Park - Series 2) Review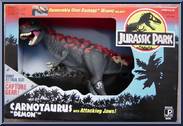 Carnotaurus "Demon"
Jurassic Park - Series 2 (Kenner)Carnotaurus is one of the most sought after, and one of the most expensive Jurassic Park toys, but it's definedly not overrated. This toy has the best paintjob out of all the toys in the Jurassic Park line: It's black with red back and white claws and teeth and green eyes. The toy is simply beautiful. It's mold is great too: You can see every scale on it's body and it's skin is covered with large and small bumps and scales. There are two horns and a lot of small bumps on it's head and even the underside of cover of it's "Dino Damage"-wound has textures like a vein on it. There is only one thing about it's looks that I don't like really like about: It appears to have buck teeth, wich is a little strange. Still, Kenner has definedly put a lot of care into making this toy. Hovever, there are two reasons why it doesn't get a full five stars: Firstly, it doesn't actually do much. It has only two point's of articulation (it is still nicely posed, so it looks great, but a bit more poseability would have been good), and it's action feature isn't that great: You squeese it's neck and it 's mouth opens. Secondly it's very expensive, and cost atleast 200$. This might keep people from buying it, wich is bad, since it's such a great toy. If you find one for a low price, or have ?nough money to spend on it, you should definedly buy it. Thrust me, you wont be dissapointed, it's the best JP toy around.



by Spino88

Write your own review for Carnotaurus "Demon"

User Comments
Carnotaurus Demon on eBay
Previous / Next Reviews