Invisible Woman (Power Blast) (Fantastic Four - Movie) Review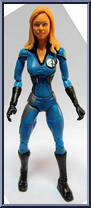 Invisible Woman (Power Blast)
Fantastic Four - Movie (Toy Biz)this is by far my favorite sue storm(nobody liked the marvel legend version and if they do they should be badly hurt!!!), Jessica Alba did a wonderful job in the film, but on to the figure she is quiet well done she has a bit of a problem with a reseeding hair line, and lack of boobs, but other wise is excellent she has moving wrists, hands, elbows, etc...although her feet are a tad strange and to small. she has all the same articulation a marvel legend figurer. Her hair is a tad soft and fairly easy to remove her head is also blue so beware of chipping. She is a little smaller then the marvel legend figures, I think she's about 5.8 inches but I haven't measured to be sure. She came in three different variants fully clear, half clear half normal, and fully normal, I proffer the last version which is the one I bought she comes with a stand that has a mini force field/tornado that shoots disks with the Fantastic Four symbol all of which are clear. all and all I give it a four point five out of five, so all and all I say she awesome!!



by colten frost

Write your own review for Invisible Woman (Power Blast)

User Comments
Invisible Woman Power Blast on eBay
Previous / Next Reviews