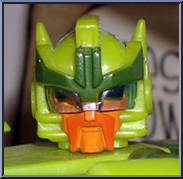 Bulkhead
Transformers - Energon (Hasbro)Don't crucify me die-hard TF fans, but I'm not too sure what size an "Ultra-Class" Transformer is supposed to be, but it looks slightly larger than a Voyager-Class, which is what I'm familiar with. The point is, no matter what size our friend Bulkhead is, he's a top-class figure.

Bulkhead stands about 7.5 inches tall, which is a pretty good size for the originally $25 retail price. Size alone isn't why I bought this guy though, despite being called BULK-head, he's not too bulky at all. I like a TF that can actually move and be posed well because it's not restricted by huge battery-packs or "action features". Also, he's wearing a visor and he has a sweet mustache! What's not to love! I also like how the Autobot symbol is boldly displayed on his chest, like hey, I'm an Autobot, you got a problem with that then come talk to the 240-inch pythons, brother!...I crack myself up. Also, he's a helicopter, and that's cool too. I'm sure the heli-mode is accurate to the cartoons and comics, but most of these Energon designs just don't do it for me. They look too cartoony and sometimes have a haphazard design in vehicle-mode, enough to the point that you can't tell what some of them are until someone tells you. Really, just look at the gray area in the front, it looks out of place compared to the rest of the helicopter's body, which is more detailed too. Still looks good though, I find new things to appreciate with every TF I get, how many toy-lines can you say that about? It looks like the Energon TFs come with a nifty little clear piece of Energon (I'm guessing it's like their version of gasoline or Chaos Emeralds, hah) which can attach to their bodies in a certain spot; Bulkhead's piece is clear-green and snaps onto one of his forearms. The eyes are clear-blue so they "glow" when light shines behind them.

I love this guy's weapons, they're all effective and look cool. The small section that holds the heli-blades pops-out (you have to practice this a few times to do it quickly) so he can hold it in either hand. The best part is that the spinning mechanism is built-in so you can spin the blades with the touch of a button (works in heli-mode too)! Also, the 4 rocket-pods under the wings all work and fire an admirable distance. And yes, there's more! Bulkhead comes along with a huge-bum twin-cannon/thruster thing. In helicopter-mode, it attaches to the underside to use as an insane propulsion system, while in robot-mode, you can transform the thing into a standing twin-cannon and place Bulkhead behind it so he looks all badass with pieces of Decepticon flying through the air and flowing 'stache glistening in the wind. Also, the big thing has lights and loud machine-gun sounds! Too bad it can't give the cat a bath, can't win em all! Oh wait, did I mention these figures have the ability to combine with certain other TFs in the same series? Yarrr!

The Energon line of TFs has to be one of the best, you get a ton of extras with every figure you buy! Makes me sad to think that now all 25 bucks gets you is a short Movie Blackout. :[ Even though the colors are all crazy and clash a bit, Bulkhead is a great TF to get. If you're looking for a more aesthetically-pleasing color-scheme, Quickstrike is the same figure but with Black/Red/Silver/Blue paint.



by Henchmen4Hire

Write your own review for Bulkhead