Batman (DC Armory) Review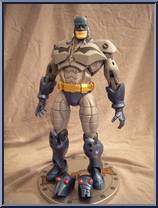 Batman
DC Armory (DC Direct)This is my first figure review so bare with me fellaS! I realized I actually get a lot of figures, especially before they even come out in the US.. (I got iron man movie figures arriving next week)... so why not do toy reviews for my fellow customizers!

This is a DC Direct Armory series Batman. Looking at the figure in package is very appetizing.. nice packaging.. the decoration with steel/bolt like decoration to signal hardcore armor. the figure was easy to take out of package, yet was nicely tightly snugged into the plastic casing.

The figure is very nice I must say IMO. I always like the well articulated DC figures, like the DCSH lines. According to my count, this figure has around 17 points of articulation. and tats pretty good for a DC figure I would say. with a cut neck, ball joint shoulders and pegged biceps and hands.. single pin arms, legs and feet.. with ball joint hips, and I'm guessing a some what peg joint at the stomach like a a ML Warmachine or Magneto figure.. not as many points of articulation like a Marvel legend.. but a good amount at the right places makes up for it very well to me..

painting is great.. I really don't see any flaw paint parts on this figure at all. DC direct figures tend to have good paint jobs..

accessories.. batman comes with two helmets to fit nicely on his head... both are identical except one has a damaged look with claw marks... battle damage I guess. also, there is a base to stand him on that says armory.

cool stuff - he has panel plates on this chest and his shoulders that have a semi movement to them.. so you can adjust them...

flaws - the shoulder pads, though they do move.. they still kind of give him a little limited movement going up.. but not really a big deal.. Also.. I didn't like how both his hands are just wide open with no articulation... but tats why you buy two figures.. to experiment and fix them urself... I'll probably just heat up the figures and bend them into a fist like I do to most of my figures... lol

over all, I really like this figure a lot because not only is it another version of a Batman.. but also a very nicely articulated one that has great potential in customizing for other projects..


Price - I'm not sure what this figure goes for retail, but them for 14.99 each.. some websites I see around that give or take... w0rth it? up to you.


well. thats it!.. thanks for looking guys and I hope this helps you guys... I'm going to start doing a lot of these toy reviews so let me know what I should add on to them or what to do..


next up will be hellboy possibly... and if the figurerealm data base is updated yet. in a week I'll have Iron Man Movie Mark 01 Iron man figure.



by wyLun

Write your own review for Batman

User Comments
DC Armory on eBay
Previous / Next Reviews
| | | | | |
| --- | --- | --- | --- | --- |
| Wolverine (Brown Costume) | | Submission Order | | Guile |
| None | | DC Armory Series | | None |
| Wolverine (Brown Costume) | | Written by wyLun | | Guile |