Guile (Street Fighter (SOTA)) Review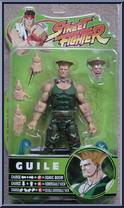 Guile
Street Fighter (SOTA) (SOTA)Guile stands about 6.3 inches tall, a little taller if you count the crazy hair. By the way, how does a soldier get away with having that kind of hair while in the military? By kicking everyone's arse, that's how. The likeness to the character is spot-on of course, this is SOTA making them after all. I like the serious face more than the angry one, it looks a little like John Cena, the wrestler. This is a sturdy figure, feels like it was carved out of a solid block of wood, like T. Hawk. The details are all there, the boots are exceptional! I can't believe how neat the paint-job is despite all that detail, the camo-pattern on the pants looks good too. He's got a tattoo of an American flag on each arm and a few veins to boot. The accessories include the standard interchangeable set: a flat hand, a hand with comb, a thumbs-up hand, two fists, an alternate raging-head, two Sonic Boom to clip on to the hands (really cool), and dog-tags! That's a hell of a value for the 10 bucks he used to cost in stores! There's shading on the skin, it's a little heavy on mine but it still looks fine.

Articulation isn't a problem when posing Guile, it's the looseness in the hips that'll mess with you! The hips were loose right out of the package, so were the wists, luckily we have tutorials on this site to fix this in a jiffy! All other standard articulation is there, the knees are double-hinged but the arms are only single-hinged because of their bulk. I would have preferred the hips to be hinged like the 6-inch DC Superheroes figures, but they look okay as swivel-hinges, the movement isn't limited too much.


by Henchmen4Hire

Write your own review for Guile

User Comments
Guile on eBay
Previous / Next Reviews