Starscream (G1 Repaint) (Transformers - Movie) Review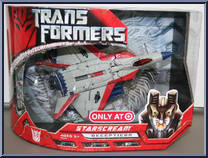 Starscream (G1 Repaint)
Transformers - Movie (Hasbro)Hey guys, my first review! I am going to review the Target G1 exclusive Starscream.

Robot Mode: Starscream is just under the 8 inch mark. He is taller than Voyager Megatron, and he has a huge chest bulk which I think makes him look strong. He has a new head mold that almost matches his G1 head. He has orange light piping for his eyes and mouth. He has a little Deception insignia on his forehead, it's really small though, but it's good detail.

Paint: He has a nice gloss on his head and some grey around his mouth, just like the G1 Starscream. He has red on his chest, chest "wings", and the exposed wires. He has blue on his arms, near the shoulder, and forearm/ missle launchers. His feet also have blue at his ankles knee and toes. The majority of his body is greyish. The windshield from the plane mode is a translucent orange.

Articulation: His neck moves 360 degrees with a swivel joint, His should joint moves in and out and has a full 360 degree turn. He has swivel elbow joint too. He has three claw like fingers that can swivel up and can fold into the forearm/ missle launchers. His legs are wierd. He has crotch joints the can "fold" in and can swivel forward and back but it's limited. He has a swivel joint at his knees, shins and ankles, and a rotating joint also at his knee. And on the official pictures he has a chicken feet that bend in angles, I chose to keep my figure with straight legs.

Jet Mode: I haven't played with him in a long time, but I managed to transform him. He transform into a F-22 Raptor, just liek the movie counterpart. Not as sleek becasue his legs fold onto the bottom and looks like a huge chunk of kibble. The color scheme is mostly the same. red on the wings. Blue is exposed from the forearm/ missle launchers, at the nose of the Jet, and two Deception insignias located at both jet wings. He does have four rolling wheels. Two help with his action feature.

Action Feature: Well there are two flaps near the wheels located on the arms. If you fold it down so it touches the Missle Launcher, and roll Starscream of a flat surface his Missle Launchers will rotate and he will have automatic missle firing. The feature also works in robot mode, but you need to turn the wheel. Or if you choose you can manual fire with your fingers by pressing the buttons. The buttons are very sensitive. If you transform him, I'd advise you to take the missles out to save you an eye.

I think I wrote a bit too much, but I hope you like my review. Sorry but I have no pics until I get my camera working.


by DTM

Write your own review for Starscream (G1 Repaint)

User Comments
Transformers Movie on eBay
Previous / Next Reviews