Conduit (Superman - Man of Steel) Review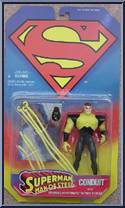 Conduit
Superman - Man of Steel (Kenner)The fates of Clark Kent and Kenny Braverman have been intertwined since the very begining of their lives. On the night Kenny was born on a Kansas roadside, Kal-El's Birthing Matrix passed over head, contaminating them with Kryptoninte Radiation which led to cronic bouts of poor health all throughout his life.

This did not stop Braverman from exelling in sports. But, when it came down to it, he alawys second best to Clark Kent. For many years, a deep loathing of Clark lurked in his heart only to one day explode into pure hatred.

Cursed with the ability to expel Kryptonite radiation, Kenny Braverman sought out to kill Clark Kent while wearing a suit of armor designed to help him control and focus his abilities.

When he attacked Clark Kent and his wife Lois Lane, he instead encountered Superman and barely escaped capture even with his advantage. It was then that he reailized what so many had failed to put together: Clark Kent was really Superman!

Armed with this knowledge and powers that could very well kill the Man of Steel, Kenny sets out to destroy everything Clark holds dear as Conduit!

Conduit comes equipped with twin Kryptonite Cables which can be attachted to either arm. His left arm is out straight while his right arm is cocked back.

A wheel on Conduit's back can be rotated which causes his left hand, up to the back of his gauntlet, spin around to simulat an attack of something.

A black and yellow mask can be fitted over his head which much improves the other wise, hideous head.

The two conduits are rather simple. One is exceptinally long and hooked at the end while the other is shorter and blunted at the ends.

The sclupting on his upperbody is very nice and detailed, but much of this is lost on the plain yellow paint job with no attention paid to highlights.

The lower body is made purly of black plastic with highly flexiable legs.

Conduit has only six points of articulation (counting his rotating hand) so, don't expect anything dramatic out of this guy.

Over all, Conduit gets three stars out of five.


by Collector1

Write your own review for Conduit

User Comments
Superman Man Of Steel on eBay
Previous / Next Reviews