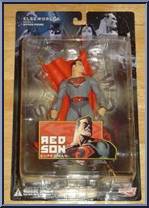 Superman (Red Son)
Elseworlds (DC Direct)Elseworlds, stories that make heroes as familiar as yesterday yet seem as fresh as tomorrow. In these stories, they tell tales of worlds that can't, couldn't or shouldn't exist. In one of these worlds, Jor-L launched his only son away from his doomed homeworld in a hastily devised spacecraft. The ship carried the child from the planet just in time as it was destroyed by old age.

The ship crashlanded on a small, blue planet called Earth in the early part of the 20th Century. The ship should have landed on a Kansas roadside. The ship should have been found by the Kents. They should have raised the child within. He should have become the greatest champion of Truth, Justice and the American Way. But he didn't. In this world, a few seconds counted. Instead of American Mid-West, Kal-L landed in Soviet Russia.

In 1950, the Soviet government revealed its new weapon, a champion of the common worker who fights a never ending battle for Stalin, socialism, and the international expansion of the Warsaw Pact. Superman!

Superman is dressed in solid gray suit and a wind blown red cape. His typical belt is much wider and solid black, with a larger red buckle than usual. Superman's shield, instead of the giant S, contains the Communist symbol of the Hammer and Sicle on a gray back round, while the basic pentaginal shape remains but with a heavy black out line. The boots are a darker shade of gray than the rest of his suit, making them visible to the eye.

Superman has a sharp, stern head with his side burns removed and his hair higher up on his head than usual. His muscles are wonderfully sculpted, giving him a truly powerful appearance.

Red Son Superman comes with a Soviet flag, raised on a pole topped with a brass colored star which can be fitted in his right hand.

Superman has eleven points of articulation with hinged knee joints, swivel hips, peg and socket shoulders, hinged shoulders, swivel jointed head, and a peg and swivel combo wrist. These are the same type of wrists that came broken with my Reactivated Superman toy, but these seem fine, however, as a precaution, I would take special care when using the hands.

The right elbow on my Superman is a little loose, but tightening the joint was simple enough. I doubt this will happen with all toys, but it is something to watch out for when you pop yours out of the package, if you choose too that is.

I wasn't to happy with the belt buckle which had runny paint lines on it and a bottom patch of the cape has a visible crack, but nothing substantial. I used a very small dab of superglue to fix it and slapped on a new coat of paint to hide any glue residue.

Over all, Elseworlds Series 1 Red Son Superman gets four and a half stars out of five. Hopefully, I won't be turned into a Superman Robot for it :D.



by Collector1

Write your own review for Superman (Red Son)