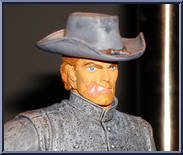 Jonah Hex
Showcase (DC Direct)Jonah Hex, holy crud! Why haven't you bought this figure already! The guy fights train-robbers, demons, giant worms, vampires, evil turtles, crotch-rot, almost anything you can think of, and lives to tell the tales!

The Hex stands in at about 6.75 inches of cold hard plastic. This is one sexy badass man. He's got a crazy intense glare that only looks meaner with the furled deformed lip (only the lip is scarred, not the whole side like in some versions of the character). I think the only major fault with the figure is that the lips doesn't look gross enough, the perfect paint hides it, hah. And I mean it, the paint is absolutely immaculate! ZERO FLAWS. The hair is a nice golden brown shade and slightly highlighted and the clothes are textured and suitably gritty (though I think they look more like old clothes that were just washed lol). The clothes really look more like stone than fabric, but the buttons and seams make it work. The flaps sticking under the belt are flexible and don't restrict movement at all. The boots at belt look like real leather, the rubber belt hangs loosely and could use a dark wash to make the bullets pop-out. Yes, the guns are removable, super-detailed, and fit in both hands! I just wish they were held more naturally, they look like they're floating in Hex's grip. By some miraculous feat of engineering, the hat is removeable AND his hair looks awesome AND paint never rubs-off, AND it all looks natural! This is witchcraft, folks, the good kind! A pretty clear-purple "Showcase Presents" stand is included though magically Hex is one DCD figure that doesn't need it to stand! And honestly, I don't think the purple suits this figure's color-scheme anyway, but I love purple, so it is welcome.

All the joints are solid, the legs move all the way forward so you can get some cool shooting-while-running poses. Other basic articulation is there; Head, shoulders, elbows, wrists, hips, knees, and even boots, but no waist-swivel, which is a bummer. The shoulders are well-crafted, they look natural but still provide full-motion!

This figure cost me $16 bucks but it was well worth it! It's a solid chunk of plastic, and once in-hand, feels like what you paid for it. I'm thrilled that DCD did justice to this legendary gun-slinger, Jonah Hex.



by Henchmen4Hire

Write your own review for Jonah Hex